Welcome to Master Parks - the place to Compare Airport parking
Be it for business or pleasure, making travel arrangements can be a stressful experience. When we fly, the ability to drive to and from the airport is a major plus; the car becomes an extension of our home, delivering us from our front door to the boarding gates of the waiting aeroplane.
The scope of our control over the situation is broadened, meaning we are able to relax and enjoy the experience of travelling before it has even begun. All of the UK's largest airports provide long-term parking for their users, but for an average two week holiday the cost of parking one's car can prove prohibitive.
Airport Parking can be expensive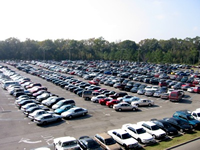 It is an expense that must be factored in to the choice of departure point, and therefore can also have some bearing upon the choice of destination.
Being able to compare the various long and short stay parking costs, as well as the associated factors, at each of the major UK airports, is therefore a vital and welcome facility. At Masterpark.org.uk, we enable you to do just that. Use our price comparisons and parking guides to enable you to choose and plan your journey with the minimum of fuss.
Read more on airport parking
Airport Parking
Master Park are specialists in airport parking and we know how to provide our customers with great parking deals. Booking airport car parking in advance can save you a lot of money and we are committed to bringing you the most competitive prices for all major UK airports, including Gatwick parking, Heathrow airport parking, Stansted parking, Manchester airport parking and Birmingham airport parking.
Master Park Airport Parking at a glance.....
Up to 40% cheaper than gate prices

Secure on-line booking

Guaranteed parking space

Quality assured customer support

Fast, easy and efficient booking process

Master Park understands what matters most when it comes to airport parking, thats why all our car parks are fully secured with high fencing, flood lights and 24-hour surveillance, so you can rest assured that your car is in safe hands. Master Park have a range of parking packages to suit all needs, you can choose from long, mid and short term parking, on-site parking, off-site parking and meet and greet services from selected airports. Each of these packages provide customers with quick and simple transfers which are often available 24 hours a day.
Save time and money by booking your airport parking online, Master Park offer fantastic deals on airport parking and airport services. By using our fast, easy and reliable service you will save time and secure a parking space at your selected airport.
Jersey Airport increases parking rates
Car Hire at The Airport
There are several car hire firms located at the link from the main concourse through to the departures.
Jersey Airport ups car parking fee
Jersey Airport is to hike airport car parking rates from 1 September.
Meet and Greet Step by Step
Drive to the airport terminal and meet your driver at the specific meeting point within 25 mile radius of South London areas.
Hand over your car keys and proceed to check in.

Your car will be driven to a secure car park and will be stored for the duration of your holiday.

On your return you will be met at the airport terminal meeting point and given your car.

Drive home!
The brief was established in conjunction with the Client to enable a fast track construction programme to be completed.
It includes a major Terminal with 25 Gates served by Airbridges together with a minimum of 8 remote stands.
Over 4 million people pass through the terminal each year and 5 different airlines operate from here.